One of the most important needs of an area is neatness. Particularly in the working environment where hygiene and cleaning requirements are even higher. Prestige Facility Services, with years of experience in cleaning services and through collaboration with the largest manufacturers of cleaning materials (Lever, Taski, Johnson, Buzil), can guarantee the perfect outcome and combination of suitable materials, especially for your area. We choose the cleaning materials for your workplace carefully, increasing efficiency in the quality of cleaning while protecting your equipment and your workplace setting as a goal best possible result.
Prestige Facility Services covers all your business needs through a wide range of services: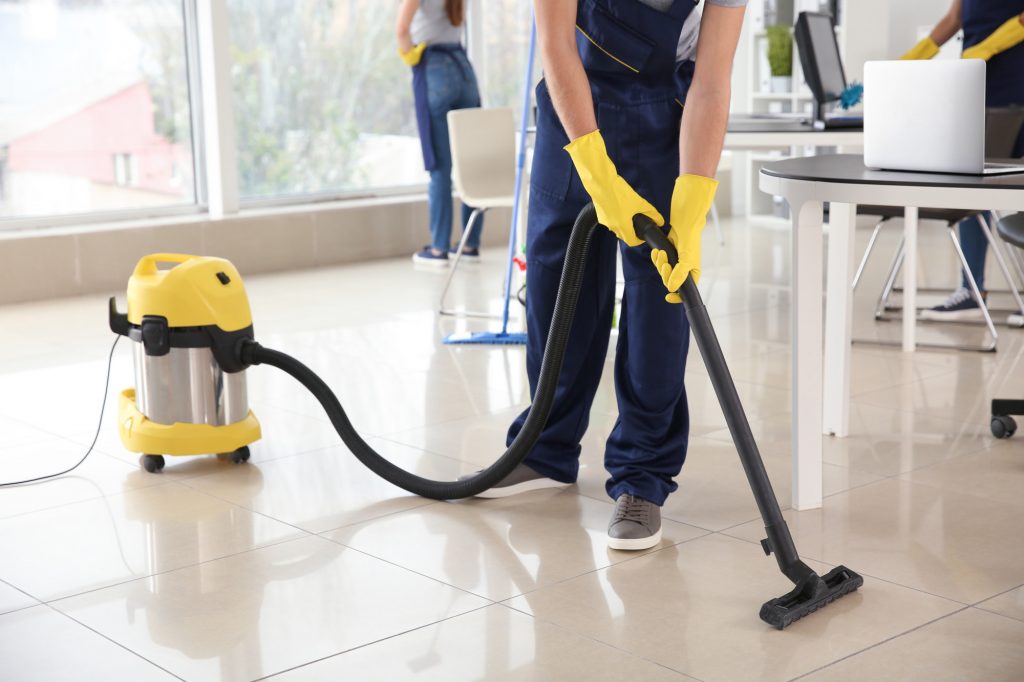 By the term disinfection we mean fighting germs (viruses, bacteria, mites) using a germicidal disinfectant approved by the EMEA.
The disinfections are performed in hospitals, schools, tools, foodservice, and private spaces for reducing the microbial load.
Often follows after rodent or insect eradication in one area there was an increased problem of parasites.
Window cleaning with special Lifting Equipment
By using special lifting equipment, Prestige Facility Services provides excellent results in cleaning windows and all that is located outdoors. In this way, we can access even the most high points in order clean everything effectively.
Floor scrubbing and sealing
On wooden floors, polish is spread in successive layers, then, using a rotary machine, we achieve a deep polish and renew of the surface. Similarly, we carry out the scrubbing and sealing of plastic flooring that are made of PVC, Linoleum and other synthetic materials.
Crystallization of marble floors
Using a special machine with rotary wire disc (pad) and the special liquid of crystallization, we remove glare giving a shiny appearance to marble floors.
Our company is specialized in cleaning hotels for many years, both in cleaning rooms and common areas. There is a specialized department with experienced executives and staff and great experience in both city hotels and Resorts Hotels. The cleaning service is carried out by experienced staff respecting health and safety measures. The staff are well trained with continuous updates through seminars take place at the offices of the company, in a specially designed area.
Hotel Ηousekeeping
For larger floor surfaces, where the traditional methods of cleaning do not ensure consistent quality results, we use automatic electric washing-drying machines in powered or self-powered version. The machines are suitable for areas with hard floors, such as industries, warehouses, super markets, workshops, malls and schools. Using rotating brushes, we achieve perfect cleaning, on uneven floors and reach the most difficult parts. The maximum time of continuous cleaning is ensured thanks to the high content of water containers, and for each type of flooring we use the appropriate cleaning liquids and drying is completed by the integrated suction machine. Τα μηχανήματα ενδείκνυνται για χώρους με σκληρά δάπεδα, όπως βιομηχανίες, αποθήκες, super market, συνεργεία, εμπορικά κέντρα και σχολεία. Χρησιμοποιώντας περιστρεφόμενες βούρτσες, επιτυγχάνουν τέλειο καθαρισμό ακόμη και σε ανομοιογενή δάπεδα καθώς φτάνουν μέχρι και τα πιο δύσκολα σημεία. Ο μέγιστος χρόνος συνεχούς καθαρισμού διασφαλίζεται χάρη στα μεγάλης περιεκτικότητας δοχεία νερού, ενώ για κάθε είδος δαπέδου χρησιμοποιούνται τα κατάλληλα υγρά καθαρισμού και το στέγνωμα ολοκληρώνεται από το ενσωματωμένο σύστημα αναρρόφησης του μηχανήματος.
Machines for large surfaces
1. Carpeted Floor: Cleaning requirements are increased when the floor is covered with a carpet or rug, as carpets tend to retain more dust and are more difficult to clean. This problem is treated with the use of specific equipment and techniques for cleaning fabric surfaces, carpets and rugs.
2. Foam Production Machine: creates foam detergent of the appropriate density that acts directly on spots, stains and dust with a rotatiing motion cleaning thoroughly.
3.injection-extraction machine: removes foam, while washing and drying the surface.
4.Special cleaning shampoos: Used to remove recent stains in specific parts of the surface.
Cleaning Services
Big Machine
Suction machine
Washing machine
Floor wash machine
Spray Extraction Machine
Maid's Set
Twin Mop Set
Prestige Facility Services has premium technological equipment any time, such as:
Washing and drying floor machines.
Rotary Floor Washing Machines.
Rotary Floor Scrubber Machines.
Carpet cleaning rotary machines.
Foam Production Machines.
 Injection-extraction Machines.
Liquid Suction Machines.
Sweepers (manual & diesel) for Exterior Cleaning.
Exterior Cleaning.
Pressing machines.
 Vacuum Cleaners